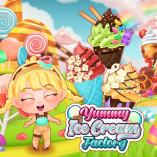 Yummy Ice Cream Factory
Yummy Ice Cream Factory is a fun cooking game with a very cute little girl. In this game, you will play the role of a pretty chef. Your task is to prepare ingredients and make delicious ice cream for this exciting summer. To get delicious ice cream, you have to collect ingredients such as sugar, milk, different fruits, etc. Then you will add other ingredients and mix them well. Next, you will decorate the ice cream with many beautiful and attractive colors. Join the game now and create the most delicious ice cream to help reduce the heat this summer. I hope you have fun!
How To Play Yummy Ice Cream Factory
Use the left mouse button and manipulate the screen to follow the steps. You will create colorful ice cream for this summer.