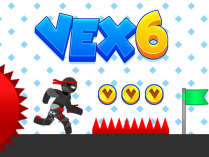 Vex 6
Vex 6 is the final installment in the Vex series. In this part, you still have to control your stickman to overcome the pitfalls and complete the mission. But towards the end, the difficulty of the game increases with a lot of deadly traps; any mistake you make can kill you anytime. So be careful; React quickly to escape the deadly traps. Good luck!
How To Play Vex 6
If you're playing on a computer, use the W-A-S-D key to change your stickman.

If you're playing on a mobile device, simply tap the buttons on the screen to switch.