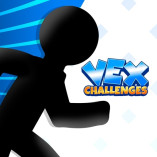 VEX Challenges
Vex Challenges is an action game that tests your skills with a fresh and innovative gameplay style. You will have to race against time with stickman characters. The game will be an adventurous challenge to overcome. You have to use quick reflexes of your body to reach the finish line on time. You will have to pass 75 levels in each level and the difficulty will gradually increase in less than 10 seconds. Control your character with precision, speed and agility to reach the finish line before time runs out and avoid many traps to stay alive. At the same time, you must collect all three stars before reaching the finish line to complete the challenge in the best possible way.
Use the mastery skills you have to pass the levels easily! In addition, if you want to challenge yourself with more difficult games, you can join the Vex series to discover the mysteries in this long series of games! I hope you have fun!
How To Play VEX Challenges
Use the up, down, left, and right arrow keys to control your stickman character to move past the deadly obstacles and traps to the finish line on time and complete each level in this game.