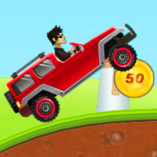 Uphill Racing
Uphill Racing is an extremely interesting terrain-driving game. You will control your car through rough, hilly roads and collect lots of coins. The game will test your patience and reflexes. So drive very carefully and try to take the car as far as possible. The higher you go away from your points. If you love games in the racing genre, you can participate in some good and attractive games similar to: Hyper Car, Hill Climber, ... I wish you fun moments!
How To Play Uphill Racing
Use the following keys on the keyboard to control your car.