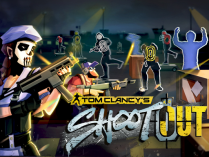 Tom Clancy's Shootout
Tom Clancy's Shootout is the newest shooting practice simulation game on the market. In the game you will show your shooting ability with various guns. You will have to hit the target with high accuracy and quick reflexes. You have to shoot down the drone to get better weapons. To get rid of these cardboard criminals, you have to aim the gun at different parts of their body. Improve your shooting skills and beat your opponents on the leaderboard. Be an excellent shooter. If you like shooting games, try Guns and Magic, Bubble Game 3 and other similar titles.
How To Play Tom Clancy's Shootout
Move with the mouse and shoot with the left mouse button. Show us how good you are at shooting.