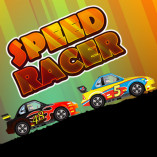 Speed Racer
Are you ready to become a real speed racer with the game Speed Racer? If you are a lover of speed racing games, this is the game for you. In this game, you will drive different racing cars at a maximum speed that allows you to reach the finish line in the shortest time. With each finish, you will score a certain number of points. You can accumulate points through different races to unlock new and much more modern cars. In addition, there is a way to achieve a high score in this game: you will have to collect coins scattered on the track. These coins will help you increase your score and quickly unlock new racing cars. Now get in the car, hold the steering wheel firmly, step on the gas pedal, accelerate as fast as possible, and become a real speed racer in this game right away. I Hope you have fun!
There are also many other interesting and exciting racing games waiting for you to discover, such as Drifty Race, Truck Climber,... Try these games now!
How To Play Speed Racer
Use the right arrow keys to accelerate.
Press the left arrow key to slow down.
Combined with using the mouse to manipulate the keys on the screen