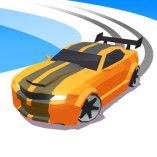 Drifty Race
If you are a lover of speed racing with fierce competition, do not miss the game Drifty Race. This will be a perfect choice for those who love speed. In this game, you will participate in a car race with other racers. All will start together at the finish line. After the signal, all racing drivers speed up their cars and try to finish first to win each level. However, your track will be very difficult; there will be many sharp turns that make you unable to turn back. Your track will be covered with snow, and the places you pass will leave tire tracks that are very slippery. So drive carefully and control the speed and the road so that the car is thrown off the track. Be the first to reach the finish line and win this game. Good luck.
In addition, you can join some similar racing games with higher difficulty, such as Twisty Roads!, Drift Boss,... Join today
How To Play Drifty Race
Use your mouse to control your racing car.