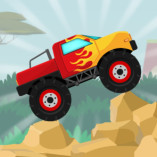 Truck Climber
Truck Climber is a very difficult off-road driving game and the newest game on our site. This will be a great game for those who love driving. In this game, you will participate in driving as a mountain climber. You will drive a truck and climb mountains with dangerous bumpy rocks. It is important for you to balance the bike, control the speed and focus to successfully control the mountain bike. Don't let your car get stuck or overturned on the mountain, or you will lose. Join now and become a professional climber with your truck. Show us your driving skills.
If this game has not made it difficult for you, you can join some other interesting driving games such as Traffic Rider, TrackMania Blitz,... Join the day and don't miss it.
How To Play Truck Climber
You just need to use the WASD keys to drive the mountain truck. Have a safe drive and conquer the highest mountains in this game.