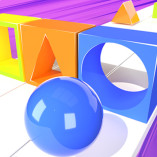 Shape Race
Shape Race is an endless running game combined with extremely interesting puzzle. In it, you will control a rolling ball and choose the right shape. Your goal is to control the rolling ball as far as possible and get the highest score possible. To achieve the highest score along the way, you have to change the shape of your ball continuously to be able to overcome the obstacles. If you control the ball to go in the direction you want and place it in the squares with a different shape than the rolling ball, the ball will break, the game will be over and you will have to start from the beginning. Your ball will change shape continuously, be it a square, circle, triangle, etc. Observe and react quickly to quickly match the correct shape and overcome the obstacles in the way. Friend. Join the game now and score yourself the highest score. Having fun.
How To Play Shape Race
You just need to use the A and D keys to control the ball's movement left and right to arrange the ball in the right shape. I wish you the highest score.