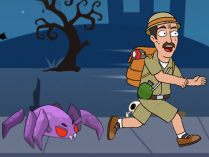 Save The Uncle
Save The Uncle is a new adventure game. Your mission is to rescue a man in distress, help him escape from spiders and traps on the road. There are many poisonous spiders and lots of traps along the way, so be careful. Let's save him from the forest safely. If you feel interesting and want to explore some similar adventure games, you can join Fireboy And Watergirl 1 Forest Temple, Backrooms,...Have fun!
How To Play Save The Uncle
Use the mouse (on the computer) or touch the screen (on the phone).