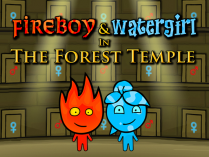 Fireboy and Watergirl 1 Forest Temple
Fireboy And Watergirl 1 Forest Temple is a cooperative game between Fireboy and Watergirl. They get lost in the maze, you will help them get out of the maze safely. To escape the maze Fireboy and Watergirl must work together to find the exit and collect the diamonds to go to the final level. You can play this game in 2 modes: single player and 2 player mode. If you find it good, then stop missing the next part in this Fireboy And Watergirl game series!
How To Play Fireboy and Watergirl 1 Forest Temple
If you're playing on a computer, use the W-A-S-D and arrow keys on the keyboard.
If you play on a phone, you can modify the controls in the settings menu by touching the onscreen keys and controls.