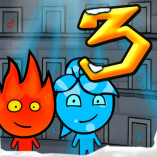 Fireboy and Watergirl 3 Ice Temple
Continue with the adventure with FireBoy and Watergirl in FireBoy and Watergirl 3 Ice Temple. This is the next adventure in FireBoy and Watergirl. In this section, both will explore the ice temple with many dangers hiding inside the bank. You must help both of the temple and find a way to get out of the maze. Otherwise you will never get out of this cold temple. Always remember an important thing in all parts that FireBoy cannot touch the water, and the Watergirl cannot touch the fire. Both are only supported, helping each other overcome the dangers in the temple. Help them explore the temple and return safely! In addition, if you have not discovered the first two parts of the Fireboy and Watergirl game, join it right away! A lot of interesting things in adventures are waiting for you. Wish you have fun!
How To Play Fireboy and Watergirl 3 Ice Temple
Use the following keys on the keyboard to control
Move FireBoy:
Use the arrow keys to move up, down, left, and right.
Move Watergirl: