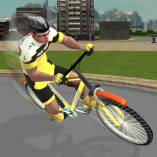 Pro Cycling 3D Simulator
Welcome to a thrilling 3D bike racing simulation game, Pro Cycling 3D Simulator, with lively and challenging racing tracks. The athlete will sit on a racing bike, and you will help him win both fast races and tournaments. The game will have two modes: quick races and tournaments. You can choose one of the following two modes to compete with the racers:
In quick race mode, cyclists need to finish first after riding two laps.

In tournament mode, you have to go through three main stages: a semi-final and a final race, and every place needs to be won.
For each successful turn, when you tilt the car close to the road, you will receive five coins. If the number is enough, you can upgrade the bike to become more powerful and modern to participate in the next race.
Now let's join this exciting game right away. And don't forget, if you find it interesting, please share this game with your friends! I hope you have fun!
How To Play Pro Cycling 3D Simulator
Use the mouse to hold for power or turn.