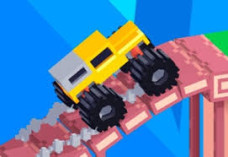 Pickup Truck
Pickup Truck will continue to challenge your off-road driving talent. It is the fifth game in the fancade series. This part requires you to drive on lunar base terrain including snow, icy and mountain roads. In this part, the difficulty of the game will increase. And, to drive safely in Part 5, you must apply the driving techniques learned in the previous sections. Take on the challenge with Drive Kids if it still doesn't satisfy you.
How To Play Pickup Truck
Similar to the control in the parts before this one:
Z, X, W, A, S, D, mouse, or arrow keys: drive
Retry and move on to the next level: space.