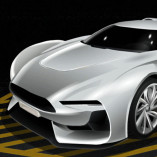 Parking Training
Parking Training is a parking training game with realistic graphics. In it, you will be practicing and honing your parking skills in a crowded parking lot. Your task in this game is to control the car in the direction of the arrow and park it at the specified location, completing each level in the game. In each level, the difficulty of passing will increase with each level. So use your expert driving skills to get the parked car in the right spot as quickly and accurately as possible.
Remember that patience and skillful skills will be the keys to helping you complete each level in the game as quickly as possible.
In addition, you can practice your parking skills in many different contexts in games such as Congested Car Parking, Extreme Parking Challenge,... Join now and don't miss any exciting games. any on our website.
How To Play Parking Training
Use the arrow keys or WASD keys to control the car to park at the specified location.