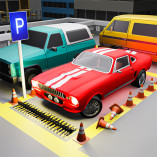 Extreme Parking Challenge
Extreme Parking Challenge is a parking skill game where you can use your driving skills to put parked cars in the right places. At the beginning of the game, you will be given your favorite car in the garage. You will then be transported to a specially built parking lot. Your task is to drive your car in the direction of the arrow. You will have to drive along a certain route to avoid colliding with many different obstacles. When you reach the end of the route, you will see a place outlined by lines. You will have to skillfully control the car and park it exactly along the lines. After successfully parking your car, you will earn points and move on to more difficult levels in the game. Do not hesitate to join this exciting parking game right away. I hope you had fun.
There are also many other attractive racing games waiting for you to discover, such as Real Drift Multiplayer, Traffic Rider,... Join today
How To Play Extreme Parking Challenge
Use WASD keys or arrow keys to control the car; press SPACEBAR for the handbrake; press V to change the camera angle.