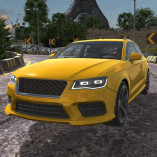 Real Drift Multiplayer
Real Drift Multiplayer is an exciting racing game where you can show off your driving skills in thrilling races with other players. The game is set up with realistic, sharp 3D graphics combined with vivid sound to give you the most realistic driving experience. When participating in the game, you will experience the feeling of driving on many different terrains, such as picturesque mountain landscapes, racing through winding tracks, and burning rubber on narrow turns. You will probably be driving as you wish, day or night. In each different terrain, there will be roads with difficult challenges waiting for you. Join the game now and practice driving skills on challenging roads and terrain.
If you love racing games, then you can try Race City, Biker Battle 3D, etc. Don't miss joining today.
How To Play Real Drift Multiplayer
Use the WASD keys to control the car.