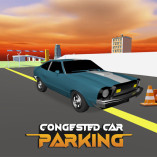 Congested Car Parking
Congested Car Parking is an extremely fun and challenging parking game that helps you practice your parking skills at all levels of the game. The game will have a total of 20 levels, and in each level, there will be different parking situations. Your task in this game is to control your car in the direction of the arrow to reach the parking spot. Parking in the parking complex was tight. You must be very skilled to control the parked car safely and in the right position. If you park in the wrong place and collide with other obstacles, you will lose. So, be clever and patient to park your car in the right place.
Also, if you want to improve your parking skills even more, you can try the Extreme Parking Challenge game. I hope you have fun!
How To Play Congested Car Parking
Use WASD keys or arrow keys to drive.
Press SPACEBAR to brake.
Press the C key to view the camera.
Press the R key to restart the car.