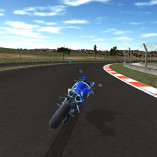 Motorbike Racing
If you love speed and fierce motorcycle races with the desire to conquer challenging race tracks, don't miss the Motorcycle Racing game. This is an extremely attractive racing game that allows you to participate in many races on different terrains. To start the game, you will first choose your favorite motorcycle, then you can completely choose the terrain to join the race with other riders. After the selection is done in front of you, your car's track will appear on the screen and other races will start at the finish line. After the signal to start, all the car drivers accelerate and complete their race, try to finish first and win. Each race will be assigned a specific time. If time runs out and you still don't finish the race, you lose. In addition, you need to be careful when driving; You need to control the car to avoid colliding with obstacles on the track or crashing into barriers on both sides of the road. When you collide with barriers, it will slow your speed and cause you to fall behind. Therefore, focus on limiting unnecessary collisions on the track. Wish you safe driving and win every race.
There are also many other exciting racing games waiting for you to explore, such as Traffic Jam 3D, Traffic Rider,... Join now and don't miss any exciting games on our
How To Play Motorbike Racing
Use the arrow keys to control your motorcycle.