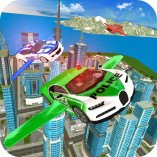 Flying Police Car Simulator
Flying Police Car Simulator is a simulation game of driving a police car around a crowded city area with many skyscrapers where you can fly while driving. In this game, you will drive a police car around the city and collect coins and fuel for yourself, trying to go as far as you can. Your car can fly in the sky, and items like fuel and coins will float in the sky. To collect all of them, you will drive the car in the aerial flying level. Be careful not to let your car run out of fuel in the middle of the road, and don't let it hit the skyscrapers. Fly high and drive as fast as you can; jump off the skyscrapers and earn money. Unlock more cars by collecting coins scattered around the city.
Always keep an eye on your fuel tank; if it's running low, find and collect fuel to continue your journey. Good luck.
If this game has not satisfied you, you can join some racing games with more difficult levels, such as GP Moto Racing 3, Trial Bike Epic Stunts,... Join and conquer the full road challenge today.
How To Play Flying Police Car Simulator
Use WASD keys to drive.
Press the F key to Switch controls.
Press the N key to Nitro.
Press H to siren.
Use the mouse for flight control