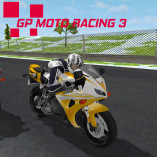 GP Moto Racing 3
If you are a speed enthusiast, do not miss the game called GP Moto Racing 3. This is a 3D motorcycle racing game in which you will race with others. You will have to face many skilled and experienced competitors in the game. Therefore, you have to master the steering wheel and use all your driving skills to overcome your opponent and win. Be the best racer! Also, if you like, you can participate in some other Hya and other attractive racing games such as Drive Fun, Drift 3,... Have fun playing!
How To Play GP Moto Racing 3
Use the following keys on the keyboard to control
Arrow keys go up, down, left and right to drive.
Press SPACEBAR to brake
Ctrl key to nitro