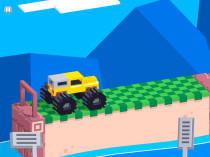 Flippy Fields
Continues with the Drive Mad series of sequels, called Flippy Fields. This time you will drive a new car through the fields. But along the way you will encounter broken roads; the gaps on those roads are larger, and you will have to gain momentum and perform the most perfect aerobatics to overcome them and reach the finish line quickly. fast, safe. If during the jump you can't get over and fall into the cliff, don't worry you will start over and do the jump again to get over them. There are many sequels in the Drive Mad series of games waiting for you. Come and join the next part in this series!
How To Play Flippy Fields
Use the mouse or the following keys on the keyboard to control:
Proceed by pressing W, D, X, or Up Arrow, Right Arrow, and Click.
backward, press the S, A, Z, or Down Arrow and Left Arrow keys.
I wish you safe driving.