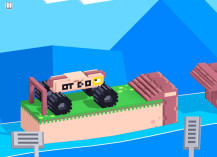 Extreme Delivery
If you are a lover of speed games, do not ignore the game called Extreme Delivery. This is the sequel to the long-running series fancade. This time you will drive a truck to the finish line as fast as possible, progressing to the next levels in the game. But this time, the distance to the finish line is longer and more difficult. So you need to drive, pedal carefully to pass it, and reach the finish line in the safest way possible. If, on the way, you roll over or fall into an abyss, the game will be over and you will have to start the game again. If you see it instead, please join the next installment in the fancade game series! Wish you have a great experience.
How To Play Extreme Delivery
Use the mouse or the following keys on the keyboard to control:
Proceed by pressing W, D, X, or Up Arrow, Right Arrow, and Click.
backward, press the S, A, Z, or Down Arrow and Left Arrow keys.
I wish you safe driving.