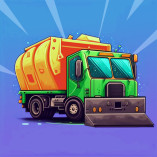 Eco Recycler
Get ready to join the world of ecology and waste recycling with Eco Recycler. You play as a recycling hero on a mission to turn the world's waste into wealth.
In front of you on the screen, you will see a location where you can locate your waste treatment plant. You will need to run through it and collect bundles of money scattered everywhere. Then, with this money, you will be able to buy various equipment necessary for factory operations and place it in places of your choice. Then you will start accepting trash and recycling. To prevent environmental pollution, your hero must pass a series of levels to collect biomass and trash. You gain points depending on how much trash you collect. The more trash you collect, the more points you earn. Don't hesitate to join now and help our hero recycle waste and create useful products for the city. I hope you had fun.
There are also many other exciting games on our website waiting for you to explore, such as Moto Hill Bike Racing, Three Cars,... Join today
How To Play Eco Recycler
Use the mouse to interact on the screen.