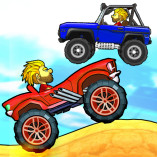 Drive Dead 3D
Welcome to the thrilling racing game called Drive Dead 3D, in which you will drive on dangerous terrain with many obstacles and compete with others. Your goal in this game is to drive safely, crash and knock other competitors off the track, and reach the finish line first to win the race. The path you take will have many obstacles, such as sharp spinning wheels, moving floors, cliffs, explosives, etc.These will be difficult challenges for you. Stay calm, drive safely, stay focused, and flexibly handle dangerous situations. Are you ready to be the champion in this racing game? Join Ngya and prove your driving skills to us. Have fun playing!
And there are many other interesting and exciting racing games on our website waiting for you to discover. Don't miss out; join today and invite your friends to play
How To Play Drive Dead 3D
You can use the A and D keys or the left and right arrow keys to drive.