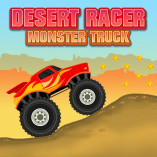 Desert Racer Monster Truck
Desert Racer Monster Truck is a monster truck driving simulation game running on sandy roads in a vast desert far from the city center. In this game, you will have to drive a truck, collecting coins along the way, completing each level, accumulating money, and unlocking upgrades for new and more modern vehicles. However, completing the levels in this game will not be easy. You will have to drive your truck through a desert full of steep slopes and deep chasms, forcing you to drive carefully to overcome difficult roads and reach the finish line safely. How many levels will you conquer in this desert racing game? Join the game now and show us your top driving skills.
In addition, you can invite your friends to conquer games with higher difficulty, such as Drive Dead 3D, Truck Climber,... Join today
How To Play Desert Racer Monster Truck
Press the right arrow key to accelerate.
Press the left arrow key to slow down.
To control the angle, use the A and D keys.
Additionally, you can use the mouse and manipulate the keys on the screen.