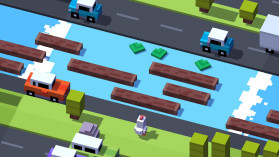 Crossy Road
Crossy Road is a traffic-avoidance game starring a cheeky chicken. You will control a chicken crossing the road throughout the game. While crossing the road, your aim is to gather money while avoiding automobiles in order to reach the finish line safely. The game needs you to watch and respond fast, otherwise your chicken may be crushed by the automobiles. Please cross the street with caution and safety. If you're seeking for fantastic and fascinating games, don't overlook the following: Solitaire Classic, Crazy Monster Shooter Have a good time playing!
How To Play Crossy Road
To safely cross the road, use the arrow keys on your keyboard.