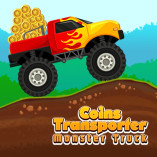 Coins Transporter Monster Truck
Are you ready to take on a new driving challenge with the Coins Transporter Monster Truck game? Explore new paths and complete challenges at each level. In this game, your goal is to drive a truck carrying a lot of coins through difficult race tracks and reach the finish line safely. The challenges you will encounter on the track are the obstacles scattered along the way. It will make your car shake and spill the coins you carry. Therefore, you need to drive carefully, skillfully overcome obstacles, and avoid spilling coins. If you spill all the coins that fall out without reaching the finish line, you will lose, and the game will end. So drive carefully and preserve the coins you carry to reach the finish line safely and complete each level. Show us your driving skills now. I Hope you have fun!
In addition, you can try many other exciting racing games, such as Drive Dead 3D, Up Hill Racing 2,... Join today and conquer challenging racing tracks.
How To Play Coins Transporter Monster Truck
Use the left and right arrow keys to accelerate forward or backward.
Press the up and down arrow keys to tilt up or down.