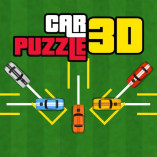 Car Puzzle 3D
Welcome to the fun parking puzzle game called Car Puzzle 3D. This is a special puzzle game that tests your driving and parking abilities. Your challenge in this game is to help the vehicle owner park their vehicle in the correct place in the parking lot. In a crowded and narrow parking lot, cars are arranged very haphazardly and out of order, making it very difficult for car owners to move. You need to help car owners drive and park their cars in the right places. To dump the cars in the right place without colliding with each other, you need to carefully check everything, observe everything around you, and control the cars stacked neatly in the parking lot in the most orderly manner. determined. Arrange your cars in the correct order to park each one in their parking space, but don't let any of them crash into the other cars.
If you let the cars crash into each other, you will lose, and vice versa, if you arrange for all the cars to park in the right place, you will be moved to a higher level. How many levels will you pass with this fun parking puzzle game? Join us and prove your excellent puzzle skills.
How To Play Car Puzzle 3D
Use the mouse to control the direction of movement of the cars.