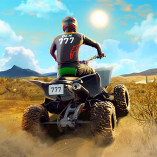 ATV Bike Games Quad Offroad
ATV Bike Games Quad Offroad is a game in the exciting off-road racing game genre, where you will participate in fierce racing with many opponents. Your challenge in this game is to participate in fierce off-road racing with many different challenges to compete with opponents and become the best racer. The game will have four game modes: career mode, supercross mode, offline mode and free driving mode. You can choose one of four modes and start your race.
Career mode: you will drive through many different tracks full of obstacles to reach the finish line without getting your car destroyed.
Supercross mode: challenge other riders and do your best to beat them to the finish line!
Offline mode: There will be 4 different modes where your goal is to defeat your opponents to become the only racer in the arena.
Free driving mode: You can explore the map and collect as many coins as possible to earn more. When you earn enough money, you can upgrade and decorate your ATV or even buy a new, better one!
Now put on your helmet and gloves and firmly grasp the steering wheel to control the speed. Start the challenging racing. Be the strongest racer. Good luck
How To Play ATV Bike Games Quad Offroad
You can use WASD keys or saddle keys to drive
Press the spacebar to brake the car.
Press key C to Change camera view