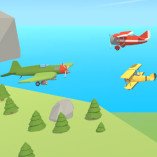 Air attack
Air Attack is a very interesting plane war game in which you control one fighter plane and shoot down the remaining planes. Your goal is to fight other planes, collect lots of coins, upgrade ammo, collect your life, and reach the finish line safely. To collect all that, you will have to shoot down other planes. After the planes explode, various power-up items will appear. Let's quickly collect them and accumulate them to reach the next level. Lots of different difficulty levels are waiting for you to explore. With the next levels, there will be more opponents, and their planes will be better. You will need to load a lot of ammo to shoot down those planes. Join the great war between planes right away. Good luck, and complete many levels in the game.
In addition, our website is always updated with other good and interesting games you can join and experience, such as Rolling Ball, Fantasy Madness,... Join now and don't miss any games!
How To Play Air attack
You can use the WASD keys or the up, down, left, and right arrow keys to control the plane's movement. Press SPACEBAR to shoot bullets.