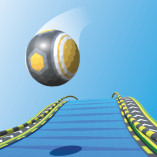 Rolling Ball
Rolling Ball is an endless running game with a ball rolling on a wooden path. You will control the ball to roll to the finish line and avoid obstacles. On the way to the finish line, you will encounter a lot of different obstacles that you must dodge and overcome safely so as not to be thrown off the track. The game has 10 different levels. Every time you reach the finish line successfully, the system will automatically move you to the next level. How many levels will you pass in this game? Join now and experience it for yourself! In addition, if you love games of the same genre, you can also join the following games: Slope Unblocked, Snow Rider 3D,... Have fun!
How To Play Rolling Ball
Press the WASD keys or the up, down, left, right arrow keys to control the rolling ball. Remember not to let the ball roll out of the wood!