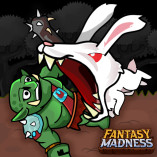 Fantasy Madness
Fantasy Madness is an extremely attractive survival action game. You will control your hero character against evil monsters. Use the weapons you have to destroy as many monsters as possible. Murder butterflies, squirrels, lightning storms, poisonous bees, magic sticks, and other howling pigs you can ride—dozens of special magics and skills can be absorbed and combined. Try to survive as long as possible; collect yourself a lot of diamonds to unlock more advanced weapons to destroy more monsters. Also, if you love them, you can participate in some other attractive games such as Retro Goal, Supremacy 1914,... Have fun playing!
How To Play Fantasy Madness
Use the arrow keys or WASD to move.