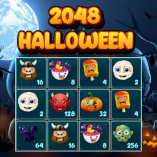 2048 Halloween
2048 Halloween is a creation based on the 2048 video game, which has dominated the charts in the gaming market. You will still have to figure out how to insert the 2048 number box into the table when playing this Halloween-themed variation of 2048, but since the images of dried numbers have been replaced, the game will be different this time. It features humorous pictures of zombies, witches, and animals. Let's play the Halloween 2048 game and enjoy its exciting features!
How To Play 2048 Halloween
To rotate and merge the tiles, use the mouse or the touchscreen. Find 2048 as quickly as you can! I hope you enjoy it.