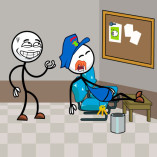 Thief Puzzle Online
Thief Puzzle Online is a fun and funny puzzle game where you will play the role of a real thief and level whatever you want. This will be an interesting experience for those who want to test their theft abilities. However, do not do this outside of your life. With this game, there will be 30 different levels in each stage, and the difficulty will increase. Your main goal is to successfully steal the item specified by the game without being detected by others. After successfully stealing the item, the system will automatically move you to the next level in the game.
To successfully steal items, you must be very clever, observe everything around you using your intelligence, plan an action, and then use your hands to successfully steal items. Keep in mind that you shouldn't let other people find out, or else the game will stop and you'll have to start over. Be careful. Good luck
If you want to try your hand at more challenging puzzle games, then you can play some cool and fun puzzle games on our website, like Matches Puzzle Game, Free Flow,... Join Now and experience
How To Play Thief Puzzle Online
Use your mouse to draw lines to control your arm. Good luck!