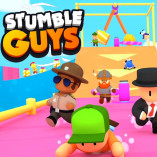 Stumble Guys
Stumble Guys is an obstacle course game where 32 opponents compete to see who is the strongest. As the victor is announced, proceed from round to round to escalate and advance through the many levels! The game ends and you have to restart if you fall. Be the strongest you can be.
How To Play Stumble Guys
You can advance by sliding forward by clicking or pressing the voice screen twice. Using this is occasionally helpful to get past obstructions. If you are in the mud, you cannot perform this move.