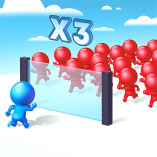 Mob Control
Mob Control is the latest tactical game that you can play on both computer and phone. You will control your army to defeat the opponent. You need to choose the best path to destroy all the castles of the enemy at each level. You will control the green army to destroy the opponent's castle and recruit more soldiers to increase the number of troops for yourself to fight with other strong army. The enemy will be pink and other colors; They are very crowded, so make the right tactics to defeat the opponent. In addition, you can participate in some other good and attractive games such as 1v1 LOL, X Trench Run, ... Play!
How To Play Mob Control
If playing on the phone, rotate the screen and just touch the screen to play.
If you play on a few calculations: left click to play