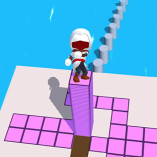 Stacky Dash 2
Stacky Dash 2 is a fun puzzle game where you collect squares in a maze to build bridges to the next level and reach the finish line safely. Your goal is to collect as many bricks on the way to the finish line as possible. The bricks you collect will help you build bridges to reach the next levels and continue the task of collecting bricks to reach the finish line. Your score will be determined by the number of bricks you have collected when you reach the finish line. So to increase the score, you need to collect a lot of bricks for yourself. Complete each level, proceed to the next level, and continue your task of collecting bricks.
In addition, if you want to participate in some similar intellectual training games, you can also join some of the following games: Free Flow, Stack,...
How To Play Stacky Dash 2
You can use the left mouse button or the left, right, up, and down arrow keys to control the character in the game and collect as many bricks as you can.