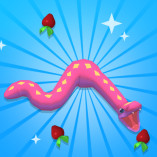 Snake Island 3D
If you love snake games, then don't miss the Snake Island 3D game. This is a voracious and fun snake-based survival game. The goal is to collect fruit to make your snake longer and defeat all the enemies on the island to finally survive. There are two modes for you to choose from: survival mode and racing mode. In addition, you can unlock new skins by raising your snake to eat a lot of fruit. The game has beautiful and colorful graphics, an intuitive interface, and easy controls, providing an enjoyable experience for players. Raise your snake to become the biggest snake! Join us in this exciting game. Wishing you the most relaxing moments!
How To Play Snake Island 3D
Left click and drag to control the snake's direction.