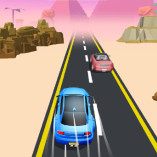 Rush Race
Rush Race is an exciting 3D driving game with many levels in which you must try to drive your car without colliding with other cars while driving on the highway. To start the game, you will first choose a car in the garage and start the game. In front of you on the screen will appear two lanes in the context of a large desert. Your goal is to drive the car on two lanes of the highway and try to reach the finish line on time without causing collisions with other cars on the road. Pay attention and react quickly to avoid cars going in the opposite direction; otherwise, you will lose this game. With each level, the difficulty of the game will increase. How many levels will you pass in this game? Join now and conquer challenging racing tracks today.
In addition, you can challenge yourself with more difficult racing games on our website, such as Moto Madness, Moto Hill Bike Racing,... Have fun playing
How To Play Rush Race
Hold down the mouse to control the car.