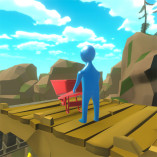 Realistic Wheelbarrow
Realistic Wheelbarrow is a climbing game with extremely unique gameplay, in which you will participate in climbing with a wheelbarrow. Your goal in this game is to balance and push a wheelbarrow up a high, bumpy and difficult mountain. The higher the slope of the mountain, the more difficult the way to the finish line will be.
Climbing alone is difficult; now it's even more difficult when you push a wheelbarrow up a high mountain. However, to win this challenging climbing game, you have to be very patient and skillful to keep your balance and not let the car lose its balance and fall down the mountain. Otherwise, the game will end and you will have to start the game again.
Now start your journey to conquer the high mountains with this animal game right away. In addition, if you want to experience some similar games, you can join some of the following games: Stacky Dash 2, Parkour Block 4,... Join now lest you miss out.
How To Play Realistic Wheelbarrow
Use the left, right, up, and down arrow keys to control the character and the climbing wheelbarrow in the game.