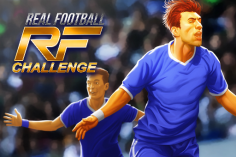 Real Football Challenge
Celebrate a trophy-laden season by playing the Real Football Challenge. This is a fun sports game with soccer gameplay and a variety of levels. You must work with your teammates to avoid the opponent and save the ball. Win the championship by leading your team to victory by answering clever tactical questions! Let's work together to vote for your team, strategize, and score many goals! Join the game and form a truly outstanding team. I hope you have a wonderful time with your team.
How To Play Real Football Challenge
To control, use the mouse. Hold to aim, then let go to shoot. To play, also follow the on-screen instructions.