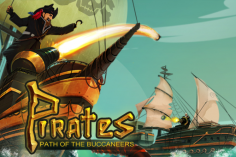 Pirates Path of the Buccaneer
You are the commander of a pirate ship that must battle against a variety of opponents full of guns and sea monsters in the game Prates Path Of The Buccaneer. To become the most powerful pirate in this sea, you must sink enemy ships and sea monsters. Don't forget to play some of our other game genres, such as action, .io, and arcade, if you find them intriguing.
How To Play Pirates Path of the Buccaneer
If you play on a computer, hold down the mouse button to switch ships and the fire button to shoot down other ships.
If you're playing on a phone, don't enter the screen to move the ship forward or backward. Swipe and hold to aim the cannon, then let go to fire.