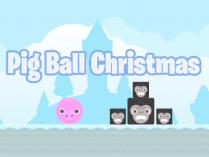 Pig Ball Christmas
Celebrate Christmas with a game called Pig Ball Christmas. This is a fun adventure game. You will join the adventure with a pig. The pig has to survive in the square animal world pass all the levels and reach the last level. More challenging monsters and longer maps are waiting for you in each level. Kill monsters and collect your score. Help the pig defeat the monster and collect the highest score. In addition, you can join some of our other Christmas-themed games. Wishing you a merry Christmas.
How To Play Pig Ball Christmas
Use the WASD keys or the up, down, left, right arrow keys to move. Press W to jump. Wish you have fun!