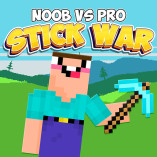 Noob vs Pro Stick War
Noob vs Pro Stick War is an extremely fun strategy game. Your task is to recruit units equipped with pickaxes into your army. You will have to protect a hero statue. The same statue will be installed in your opponent's camp. You will control your army and destroy the opponent's statue. After destroying the enemy wall, you will win and be moved to the next level. If you love this game, you can join some good games like: Flappy Bird 2, Foxy Land,...Discover the game now! Having fun!
How To Play Noob vs Pro Stick War
At the top left of the playing field, you will see a board with icons. By clicking on them, you can perform certain actions.