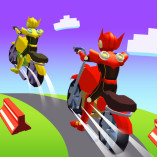 Mini Moto Speed Race
Welcome to Mini Moto Speed Race where you can ride epic motorbikes, perform deadly stunts and attack other opponents with weapons. Your goal is to be the winner by crossing the finish line first. To get to the finish line first, you must use all your driving skills to speed past your opponents. In addition, the special thing about this game is that you can use the weapon on the vehicle to defeat the opponent. Compete on the track, prevent your opponents from reaching the finish line and increase your chances of winning. Stay focused, drive your painkiller carefully, accelerate and take strategic hits to be the first to the finish line and win each level. In each level, there will be different levels of difficulty depending on the level of play. So stay focused; Calmness will be the key to help you win this game.
If this game still does not make it difficult for you, you can join some racing games with higher difficulty, such as Traffic Rider, Formula Rush,... Have fun!
How To Play Mini Moto Speed Race
Hold down and move the left mouse button to drive the motorcycle and participate in the race. To defeat your opponent, you just need to press and move the mouse to control the car closer to the opponent and make precise strategic shots.