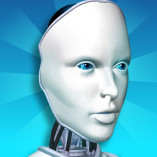 Idle Robots
Idle Robots is a super cool and fun robot-building simulation game. You will be able to create your own robots with leading modern science and technology. After successfully building the robot, you will use the robots you just built to defeat the aliens who are intending to invade. With quite simple gameplay, you just need to earn more money to hire staff to build and assemble robots and develop your business model. Upgrade and develop more powerful robots. To get smart and advanced robots, you have to constantly improve the parameters and techniques to produce the most powerful robots. Don't hesitate to join this exciting game right away. I wish you fun!
How To Play Idle Robots
Use LEFT MOUSE and follow the on-screen instructions to play. Let's create the coolest modern robots of all time!