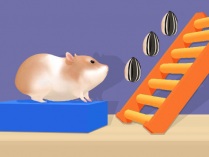 Hamster Stack Maze
Hamster Stack Maze is a fun puzzle game. Your challenge is to control the hamster so it can escape the maze and reach its destination safely. On the way to find the exit, you can collect food for yourself to prolong the time it takes to find the exit bug. If you cannot help the mouse get out of the maze as quickly as possible, the mouse will die, and the game will be over. Join the game now to help the mouse escape the maze safely.
How To Play Hamster Stack Maze
Use the left mouse if you're playing on a computer.
If you play on your phone, tap the screen.