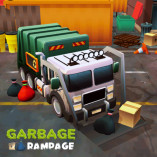 Garbage Rampage
Garbage Rampage is an exciting 3D realistic online truck driving simulation game in which you drive a garbage truck in a huge city. The city where you live and the streets that you pass through are filled with garbage; they are very messy. So your duty in this game is to drive the truck and collect all the garbage in the city, turning a messy city into a clean, tidy city. For every trash bag you collect, you will earn money to upgrade your truck. And remember, while collecting garbage, you have to drive the car carefully away from the obstacles and avoid hitting other obstacles. Otherwise, you will damage the vehicle, and your energy bar will run out. Once you run out of energy, your mission will fail, and you will have to start the game again. Now, why not join the game and help the city clean up the trash on the roads?
In addition, if you love speed racing games, you can try Formula Rush, Rally Racer,... Join now and don't miss out.
How To Play Garbage Rampage
You can use the A and D keys or the left and right arrow keys combined with the mouse to drive the garbage truck.