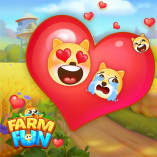 Farm Fun
Farm Fun is one of the most popular farm-themed games. Your task is to guide the way out for the animals locked inside the cage. Release the animals in the cage without crowding each other. The cage is very tight; you have to guide and show the animals how to get out as quickly as possible. The game has many different levels, from easy to difficult. Every time you release all the animals in the cage, you will move to the next level. Do not hesitate to join this fun farm game. How many levels will you pass? Let's explore the game with us!
How To Play Farm Fun
Click and drag left mouse to show the way to the animals.